Ohanna Avetisyan
You can soon listen to our stories on our podcast, Story Beyond The Ruins. We would also love to hear your thoughts about this conversation at storybeyondtheruins@gmail.com or on facebook. The intro song is called Hińk Edz by Zulul. *Please be advised, some of the content in these stories can be disturbing.
Ohanna Avetisyan was born in 1980. She had a peaceful childhood in Gyumri, then known as Leninakan. At a young age, she was recognized for her intelligence and singing skills. Her school had a tradition of strong English teaching: she began learning the English language in the first grade and grew to love it. Describing the city in the time before the earthquake, she said "Everything was in bright colors."
Ohanna was in school at the moment the earthquake struck. She recalls feeling lost, dazed by the confusion and chaos immediately afterwards. Being an eight-year-old girl and following her childish instincts, she looked for authority figures like teachers who were helping students safely exit the school. She didn't understand the concept of an earthquake, or fully comprehend what had happened. Once outside, she saw her grandmother running through a park searching for her, wearing simple slippers. Once reunited, her grandmother tightly embraced her.
That night people were afraid to stay inside their homes. Ohanna's relatives decided to take her to Yerevan. On the road, she remembers passing piles of stone that used to be "wonderful buildings." In the Armenian capital, she stayed one night in her relative's apartment, which was a fourteen-story building. It was a sleepless and fearful night, because she felt unsafe in that tall building. The next day she left to stay with other relatives in Armavir province.
Two weeks later she returned to Gyumri and also restarted school. Students met for lessons in a tent with no gas or electric lighting. They used wood or gas stoves to warm the room for a few short fifteen-minute lessons everyday, and then returned to their families. During the interview, she remarks, "The soul and strength of people in Gyumri was amazing, because even if they had people who died in the earthquake, they didn't lose hope, they thought about living on, they thought about the future and the future of their kids."
An idea took hold among the students that building a new school would be the "most wonderful thing." One day a British journalist came to speak with the students studying in tents and asked what they desired – toys, food, clothes – and one of the students replied that they wanted a school, a clean, beautiful, comfortable school. This idea spread to the United Kingdom, where the diaspora Armenian community and the British government began raising money to build a new school in Gyumri.
In 1990, the school was finished. Ohanna was one of ten students chosen to participate in the school's opening ceremony. Upon entering it for the first time, she was overwhelmed by the splendor of the new school. She was also introduced to a guest from England: an intelligent, striking woman with kind eyes. This woman was Margaret Thatcher, the "Iron Lady."
The school was named the Lord Byron School. Because of its modern facilities, the school was in high demand with Gyumri's families and a lottery was instituted for students to earn a spot there. Because Ohanna was a student at the original school number 20, she was automatically admitted to Lord Byron School, but unfortunately her brother wasn't.
The British again helped the school a few years later, paying for a heating system which would enable the students to learn more comfortably in the severe Gyumri winters. Feeling gratitude for the support given by Great Britain, she wrote a song to express thanks. This song became a school anthem and is still performed regularly.
After graduating university with a degree in English, she "ran back" to her school to work as an English teacher. To her, working at this school is not only a job but a type of service. She feels at home there among the teacher group and students. In fact, she received national recognition for her teaching in 2017, earning the title of "Armenia's best teacher." After this she got many offers to teach at other prestigious schools in Armenia, but she turned them down to continue working at the Lord Byron School. She ends the conversation on a forward-looking note, hopeful for Armenia's future: "I believe in our youth. Our youth is the strength and the power that will change the situation not only in Gyumri, but in all of Armenia."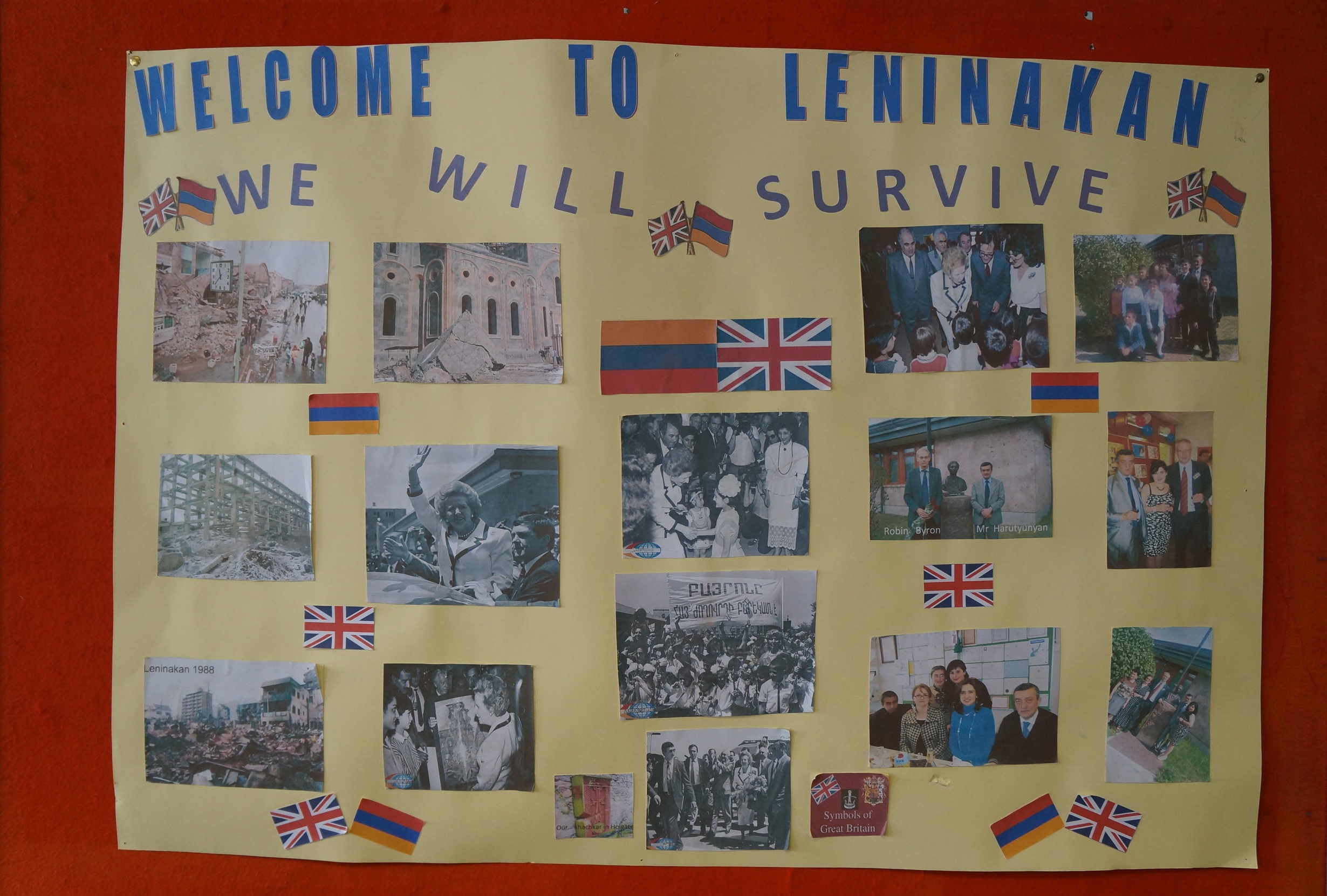 About Ohanna
Ohanna Avetisyan was born in 1980 and went to basic school number 20 in Gyumri.
She later graduated from Gyumri State Pedagogical Institute and was awarded a Diploma of Honor when she received her qualifications to become an English teacher.
The 1988 Armenian earthquake destroyed school number 20 but it was rebuilt with support from the British government and renamed Lord Byron School. Ohanna has been teaching English at her former school since 2002.
In 2010, Ohanna, together with two of her students were invited to participate in the "Theatretrain World Children's Ensemble." The event included 150 children from 28 countries and 1500 children from all over Britain.
In 2017, Ohanna won the "Best Teacher in Armenia" contest and was presented with the award by Ministry of Education.
Ohanna lives in Gyumri with her son.